Board Certified
Maybe you have never needed the services of an attorney before, but now you do.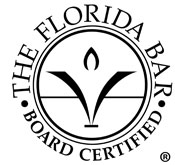 Obviously, you want a lawyer who is able to handle your particular legal situation, and who has expertise in the area of law relating to your legal needs.
The Supreme Court of Florida directed The Florida Bar to create a "Board Certification" program for Florida Bar members. The program is designed to help the public make an informed decision when seeking and selecting a lawyer.
Firm partners David Fonvielle, Hal Lewis, Jim Messer and Allen McConnaughhay are all Board Certified Civil Trial Lawyers.
While all lawyers are allowed to advertise, only certified attorneys are allowed to identify themselves as "Florida Bar Board Certified" or as a "specialist." Certification is the highest level of recognition by The Florida Bar of the competency and experience of attorneys in the areas of law approved for certification by the Supreme Court of Florida.
Only a lawyer who is a member in good standing of The Florida Bar and who meets the standards set by the Supreme Court of Florida may become a "Board Certified Civil Trial Lawyer."  In fact, less than 2% of the lawyers in Florida are Board Certified as Civil Trial Specialists.
Certified lawyers in civil trial law deal with litigation of civil controversies in all areas of substantive law before state and federal courts, administrative agencies and arbitrators. In addition to actual pretrial and trial process, civil trial law includes evaluating, handling, and resolving civil controversies prior to the initiation of suit.
Not all qualified lawyers are certified, but those who are board certified have taken the extra step to have their competence and experience recognized.
When you need the services of a lawyer, when you or a loved one has been injured, don't trust just anyone. Seek an expert. Choose a Board Certified Lawyer. At Fonvielle Lewis Messer and McConnaughhay, we can help.
Personal Injury Law . . . It's All We Do! ™